Mobile 1st Indexing is something that Google has been rolling out for a while to make sure all websites follow the best practices for viewing a website on any device and with any connection speed. It is now the default way they are indexing your website.
Why Does This Matter?
Google wants to make sure that when they rank a site in the search results that anyone visiting that site will have an above average experience.
In short if Google finds that the mobile version of your website loads slowly, you will not get the best possible search rank for your website.
Even if your website currently ranks well in Google, it could be demoted very soon!
Will A Page That Loads Fast Automatically Increase My Search Engine Rankings?
No, but it is a vital part of your overall search engine optimization plan and should not be ignored.
There Is A Simple Solution
Google has a testing tool named PageSpeed Insights and it is free to use for anyone. Use the following link to test your site: Go To Google PageSpeed Insights Now!
You can view your website results for both Mobile and Desktop. If you are not scoring 90 or above you may want to work to improve your results!
Here are the Mobile Results for this page!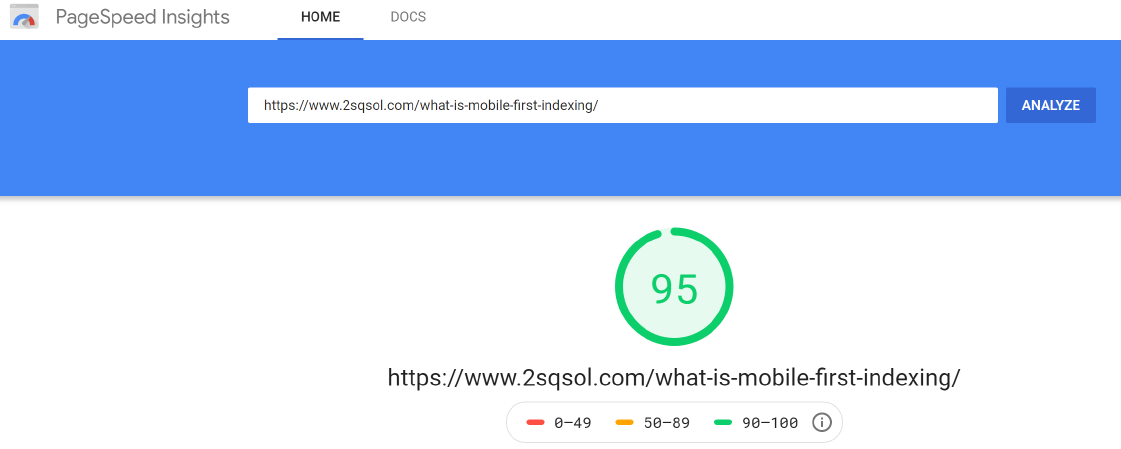 You can also view the results with this link: https://developers.google.com/speed/pagespeed/insights/?url=https%3A%2F%2Fwww.2sqsol.com%2Fwhat-is-mobile-first-indexing%2F